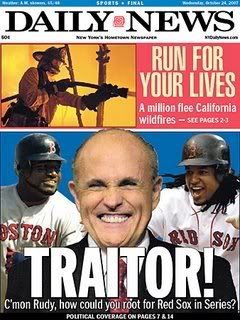 As reported by numerous news agencies,
lifelong Yankees fan Rudy Giuliani announced in Boston that he's rooting for the Red Sox to win the World Series.
"If I keep looking at that hat, I may start crying," he said to chuckles, before adding, "Good luck to the Red Sox!"
Pundits immediately declared the comments a shameless play for votes from a man whose name is almost synonymous with Bronx Bomber - a big-game regular in the box seats next to the Yankee dugout....
"The next time he goes to Yankee Stadium, we will boo," vowed Charlie Egan, 36, a carpenter from Rockville Centre, L.I. "Yankee fans forget nothing."
"He said that?" exclaimed a shocked Bob Herbert, 49, a Brooklyn maintenance worker. "He should be ashamed of himself."
"He is doing what Hillary did," Herbert added, referring to Democratic front-runner Hillary Clinton, whom Giuliani mocked just last week for dividing her loyalty between the Yankees and the .National League Cubs of her native Chicago. "He is just doing it for votes."
The GOP front-runner insisted his sudden conversion to Red Sox fandom was "not just because I'm here in Massachusetts."
"In Colorado, in the next week or two, you will see, I will have the courage to tell the people of Colorado the same thing, that I am rooting for the Red Sox in the World Series," he said.
But the former mayor will still have the electoral math on his side. Colorado has a total of nine Electoral College votes, compared with about 30 in Red Sox Nation - Massachusetts, Vermont, New Hampshire, Maine, Rhode Island and about half of Connecticut.
"Go Red Sox! 9/11!"
On another note, call me overly involved, paranoid, whatever. According to the USDA website, they will answer any question in five business days. According to my count, tomorrow will be five. If I don't hear from them by then, I'm contacting my congressman to see if I can't get this explained.
So that's it from me.