I apologize in advance as this is going to be a very long, media-heavy post – such is the case when one attempts to summarize two jam-packed weeks. I attempted to make sense of Blogger's "read more" link tool, but I'm not a fan of rewriting HTML and getting into style codes and all of that, so we're just going to have to deal with it.
As you all know, Tim and I spent the last two weeks in London, Edinburgh, and Dublin.
We got into London at around noon on Tuesday, picked up our bags, and took the Tube to our hotel. From what I hear, Londoners complain about the Tube, but it seemed a lot better than Chicago's el. We never really had to wait more than a few minutes to catch a train, and our hotel was right off of a couple of the lines, so we could get pretty much anywhere we wanted to go within fifteen minutes or so.
I'm not ashamed to admit that we did a lot of touristy things. One thing that's difficult to get a grasp on is the sheer amount of history that can be packed into one country (England – where the history comes from!") – here in the States we have our Bostons and Philadelphias, and think two hundred years is a really long time – but then you go to somewhere like Westminster Abbey (really incredible, by the way) and find five hundred year old monuments…it's just mind-blowing. It's interesting because, in contrast to some of the other places we were, London is getting to be quite cosmopolitan, the juxtaposition of the castles and monuments surrounded by glass-enclosed office buildings is somewhat striking..
So as I mentioned, we went to Westminster Abbey, so here's that obligatory picture: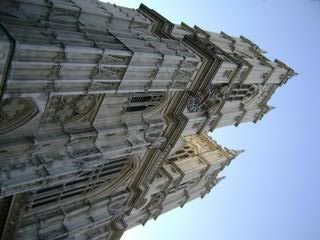 The history in this place is just amazing. Practically everyone who's anyone in British history is buried there - countless kings and queens, Geoffrey Chaucer, GF Handel, Charles Dickens, Isaac Newton, Charles Darwin…the list just goes on and on.
We also spent a lot of time in museums – which was great because most of them are free so you can really pop in and out and don't feel like you have to spend all day there to get your money's worth. So we wandered into the British Museum and saw their Egyptian collection and the Rosetta Stone,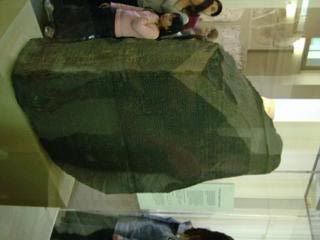 Like Westminster Abbey, the British Library is a perfect example of a lot of history packed into one room. We went over there and saw everything from the Magna Carta to Shakespeare's first folio to sheet music by Handel, Beethoven, and Chopin; to John Lennon's first draft of "A Hard Day's Night" (written on the back of a birthday card to his son) to the Gutenberg Bible to DaVinci's notebooks. If I haven't said it already (yeah, I know I have), absolutely mindblowing.
We also spent a lot of time just relaxing. Vacations are no fun if I'm constantly on the go, so there were a lot of hours spent sitting in a park with a cup of coffee and a newspaper – which, by the way, was practically indecipherable, especially when you get to the sports pages. As hard as I try, I think I'll never understand cricket – especially with sentences like "Then Umpire Gary Baxter, having rightfully called no-ball for a high full toss bowled at Oram by Ryan Sidebottom, did not repeat the call when the bowler sent down a second, which Oram spooned to a midwicket where Bell took a stunning catch." Actual quote.
We also saw the Tower of London, which was pretty interesting, as well as the nearby Tower Bridge. Tim went to the Globe Theater while I sat in a coffee shop attempting to read the paper. We saw more touristy things, like Trafalgar Square, St. Paul's Cathedral, and Big Ben: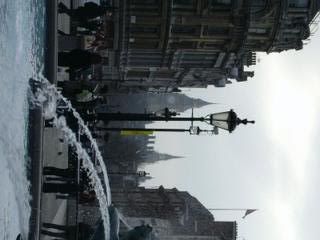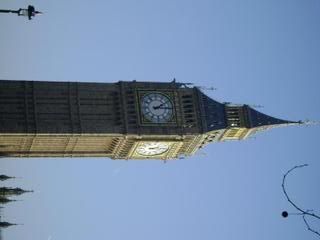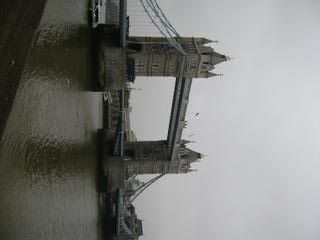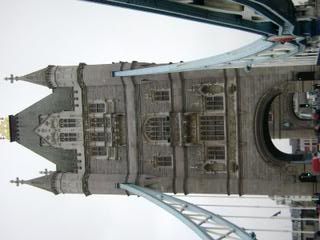 It was nice not really making a conscious effort to get to a lot of places – we didn't have a specific agenda for each day, generally we'd wander around, see a sign, and say "Hey, do you want to check out…." We spent some time in pubs - I must've eaten my weight in bangers and mash ("But you're American, so you call it 'sausage in the mouth'…) and steak pies. You can say what you want about British food, but I love that stuff.
We left London on Saturday and flew into Edinburgh. I've got to say, this is a city I knew absolutely nothing about – but it was an interesting experience going somewhere and having no expectations or pre-conceived notions.
Edinburgh was great – probably my favorite of the places we went. It's certainly a walking city – we went all over the place and didn't take public transportation except to and from the airport – and it's very, very hilly, a lot like San Francisco – so there were a couple of really sore days there: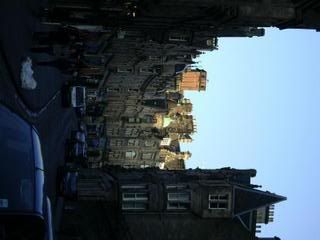 The first thing that gets you when you get downtown is the castle. It's impossible to correctly photograph the enormity of it, but here's my best shot:
It's really one of those things you have to see for yourself to properly grasp. You walk around it and there's a hundred feet of rock going straight up – I guess it makes sense why they decided to build a castle there. We got a chance to wander around the castle for a while, so I got this picture from behind one of the cannons: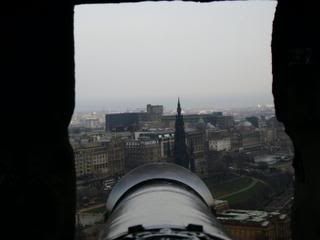 And here's some more random pictures: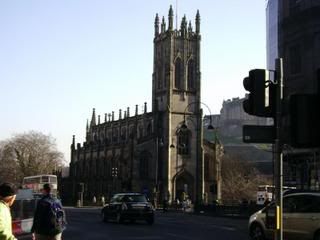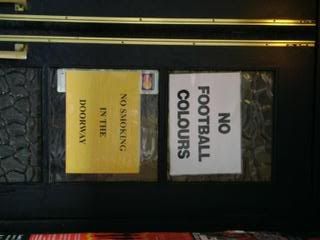 We walked up and down the Royal Mile, which is very touristy (and has a thousand kilt-selling shops to prove it) – I attempted to convince Tim to buy one, with no luck:
We wandered down an alley – this one, actually –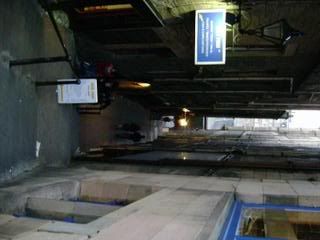 And found this pub –
tucked into the side of it. We sat there for a while and drank good dark beer. We ate haggis at a different pub. It was actually pretty good for what it is (ground beef and lamb, sheep's heart and lungs and oats, all cooked in a sheep's stomach, served with mashed and sweet potatoes):
And me with my first bite: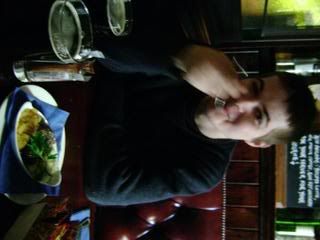 Ate more bangers and mash:
And a traditional Scottish dessert called carnachan (raspberries soaked in honey and Scottish whiskey, with oats and whipped cream), all washed down with more dark beer – good stuff.
At some point I had a deep-fried Mars Bar too, which was good, I guess, but really not worth the hype (which is odd, given my penchant for deep-fried foods, but, eh.).
From practically any point in the city you can hear bagpipes – guys like this stand on the street and play "Amazing Grace" and "Scotland the Brave" for spare change:
There's also the Sir Walter Scott Monument in the middle of the city:
You can take a very narrow stairway up to the top of it, which of course, we did:
We then made the mistake of heading over to Arthur's Seat, which is basically a small mountain. Don't get me wrong, the view was very much worth it, but going up the Scott Monument and then doing the steep, hour-long walk up the hill right afterwards wasn't easy on the legs. As I said, we walked everywhere in Edinburgh, and this was no exception. It was cool how close you are to being completely away from the city. But anyways, here's that view I was talking about:
Cool, right? We made our way down the hill and came across the ruins of St. Anthony's Chapel – again with that random history – it was built in the 14th century.
So next we headed to Dublin. Unfortunately, our flight was a little bit…delayed. We got in the air and then found out Dublin airport was closed due to fog, so we had to land in Cork and take a 4 1/2 hour bus ride to Dublin. It was a bit of a pain, but at the very least, we got a free tour of the Irish countryside.
Dublin was really unexpected. The streets and sidewalks were busier that both London and Edinburgh, but again, everything we did was within walking distance, so traffic wasn't an issue.
Christchurch Cathedral was interesting:
The architecture is phenomenal, and they've got a really creepy crypt in the basement.
We hit the outside of Dublin Castle and the Chester Beatty Library, where they have a great collection of old documents, including pieces of the Bible dating as far back as the 2nd century AD.
We wandered around the Temple Bar district for a while, which is full of shops and restaurants.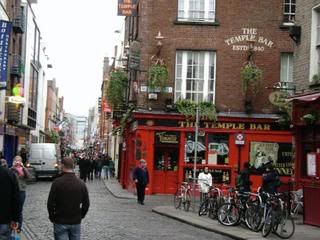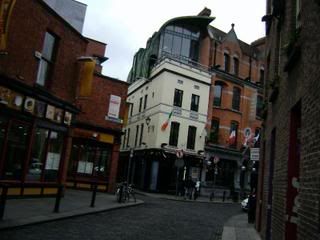 And the highlight of Dublin was probably the Guinness storehouse.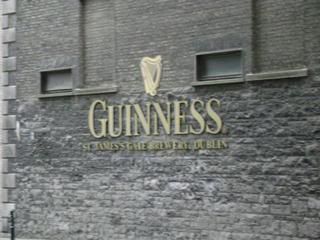 You take a self-guided tour through the storehouse, which is full of everything Guinness related, from exhibits explaining the brewing process to collections of print advertisements and television commercials. There's a wall where you take a notecard and write a message for future visitors to see – taking a look through those was hilarious – besides the usual "I love Guinness!" cards, there were a few like this one:
And the one I wrote: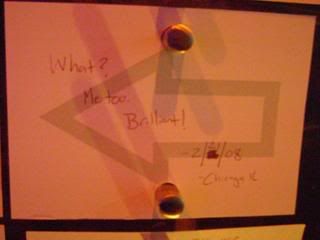 The whole tour is finished off with a pint at the Gravity Bar, which has arguably the best view in the city: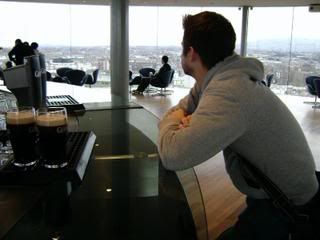 Tim waiting for the Guinness to settle.
Ready to go.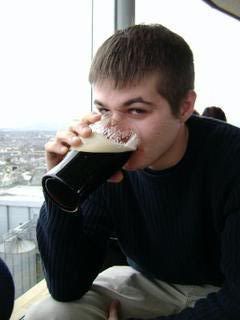 Me likey.
So that was pretty much that. We jumped on the flight back to Chicago on Friday. I took a picture of Greenland as we passed over it: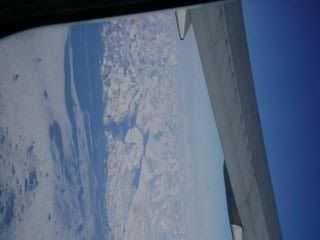 Got back to Madison on Friday afternoon, incredibly tired. The jet lag is still killing me (I was up at 4 AM yesterday and 6 AM today), but it was definitely worth a few days of exhaustion.
There are a ton more pictures - if you want to take a look at the rest of them, you can go here:
http://s134.photobucket.com/albums/q95/natehamilton82/
And they're all sorted into albums on the left-hand side of the screen.
So where should I go next?